Partnerships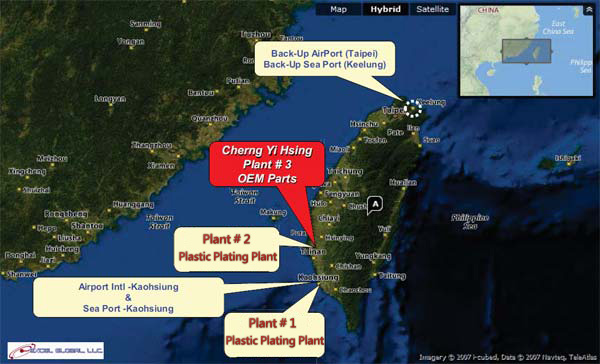 Plant # 1 plastic plating plant
(#1 Tank size: 330cm*80cm*205cm / 130"*31.5"*80.7")
1986: 3 Layer Nickel Process Introduced with renewed Equipment
1979: Injection Molding Factory Added
1969: Plating Factory Established

Plant # 2 plastic plating plant
(#2 Tank size: 330cm*75cm*180cm / 130"*29.5"*70.8")
1994: founded in Tainan

Plant # 3 Cherng Yi Hsing OEM Parts
(#3 Tank size: 330cm*85cm*230cm / 130"*33.5"*90.5")
2009: Add Satin and Dark Chrome (trivalent chromium)
2009: Built New Warehouse
2007: TS-16949 & ISO-17025
2006: North America Sales Support Added
2006: ISO:9001 Certification
2005: New Factory Added in Tainan for OEM Part Focus



Office # 4 (North America) Excel Global, LLC
Strategically partnered with 'Cherng Yi Hsing' to provideSales, Tooling, Engineering and local Customer Support.
Established in 2000 as a subsidiary of 'Excel RP Inc. in an effort to focus on current needs of globally competitive options.
Leverages a local & off-shore team of independent Sales & Program Management professionals to extend a wide range of Tooling, Sales and Manufacturing options to various customers & partners.