Who We Are
Cherng Yi Hsing (CYH) can plate a range of finishes on plastic which include chrome, satin chrome, satin pearl, black chrome and black sapphire. uses ABS/PC+ABS plastic material from well-known companies including Samsung Cheil, GE, Chemei and Formosa Tairilac for better plating performances.

Plastics plating requires precise controls and checks and is much more involved than plating on metals. An automated plant enables reliable plating and precise time control in the tanks that each part goes through. Cherng Yi Hsing at the forefront of the original development, have played a leading part in both technology improvements and expanding market applications. Today, plating on plastics is used in a wide variety of applications, to meet both functional and decorative needs.

With over 40 years of plating on plastic component experience, started in 1969 and located in Taiwan, Cherng Yi Hsing Plastic Plating Factory Co., LTD. (CYH)'s seasoned plating experience ensures high quality results. That is certified with:
Lab approved by TAF
ISO/ IEC 17025
ISO/TS 16949
ROHS
ASTM
JIS ( Japanese Industrial Standardization)
IMDS ( International Material Data System)
D&B D-U-N-S Registered
160 Stuff & Sizes of Plating Tanks
160 employees with average over 20 years of experience, CYH has a team of elites. With multiple sizes of chemical electroplating tanks, CYH is capable of handling large orders and various sizes of electroplating objects.
The sizes of chemical plating tanks are:
330*205*80cm (130"*80.7"*31.5")
330*180*75cm (130"*70.8"*29.5)
330*230*85cm (130"*90.5"*33.5")
In order to conduct quality plating services – shiny chrome, satin nickel and trivalent chromium chrome electroplating – with high quality finishes, every process is monitored by onsite inspectors and plated parts are tested in TAF approved lab. It means, when you place an order, one-stop service will be provided to exceed your expectations.
Top Automobile OEM Client
GM, Chrysler, Ford and Whirlpool are our clients. The long period of cooperation has proven our capability of providing international standard electroplating. Apart from automobiles, CYH also delivers home appliance and motorcycle part industrial chrome plating.
Large Capacity for Massive Production
There are three facilities with a total area of 15,200 sq-ft in Taiwan, and a 22,000 sq-ft warehouse located in the U.S.; to provide massive ABS & PC/ABSelectroplating production and inventory. At the plants, 100, 200, 300, 500, 850 and 1200 ton injection moulding machines are equipped to increase the productivity.
Certified and Tested. One-Stop Electroplating
CYH's chrome and nickel electroplating process lines and labs are fully certified, they are IEC 17025 - TAF Lab Approved, ASTM, JIS, IMDS, GMW, ISO/TS 16949, ISO 9001, ROHS and Dunn & Bradstreet.
Each Plated item is inspected with:
CASS resist test,
Thermal cycle test,
Spectra analysis,
Thickness measurement,
Microscopic pore count check,
90 degree adhesion tearing strength tester.
Our Value
On-time delivery and customer satisfaction is our promise when your order is handled. With over 40 years of electroplating experience, our technology is advanced and we take environmental responsibility for our products and process to enhance our strengths. No pits, pin holes, burns, roughness, blurring or discolorations, if you are looking for a well reputed electroplating company to serve you, look no further than CYH.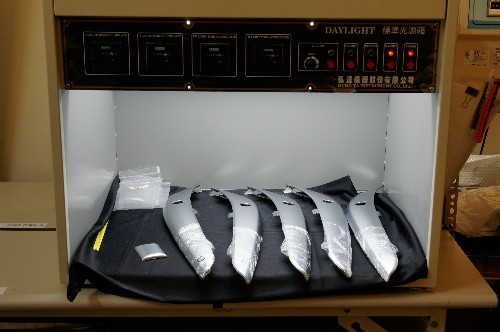 Color tester for plated items including shiny chrome, satin nickel and trivalent chromium plastic electroplating.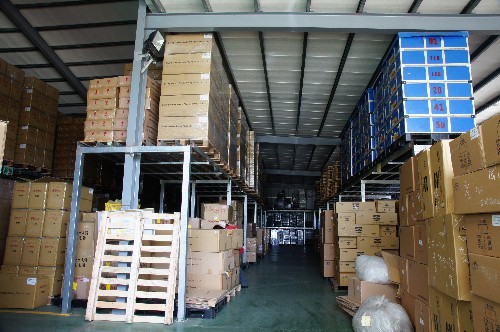 inventory for ready to ship plated products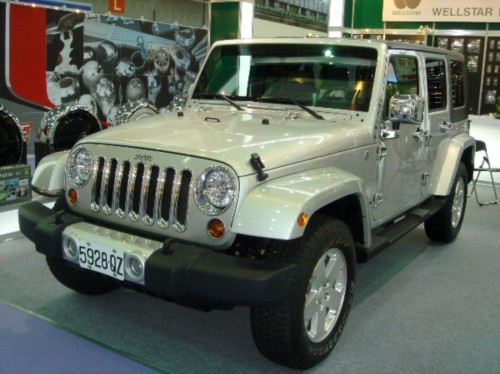 CYH started as a chrome plating supplier and their clients include GM, Chrysler and Ford, now they also offer plating for other components such as motorcycle parts and home appliances. In the picture, ABS plastic bumper is electroplated by CYH.